Artworks on Easel
---
Warm welcome to visiting Artworks on Easel Section :). On this section, you'll delighted to watch Nature to come alive in my Studio...My Studio is little heaven for me. Where I can take breath of satisfaction of creating something new, unique and important for nature that I love and feel in my soul every moment. Every painting is representation of love for nature. Every new artwork is new life for me...
My Studio never keep silent for many days. So please keep looking for new artworks. All the 'On Easel Artworks' are available to purchase unless otherwise specified. If you would like to create custom wildlife painting from your own wildlife images/experiences. Please contact me and also visit my
Commission Work
page on my website for more information and we will happily discuss it extensively :).
Sincerely,
Rahul Parekh
http://www.rahulparekhwildlife.com
---
'Kallu' - Royal Bengal Tiger of Bandhavgadh National Park is currently on my Easel. Work is reached to the second stage and still lots of work is yet to be done to make him alive. Image Reference Courtesy by my good friend Kiran Khanzode.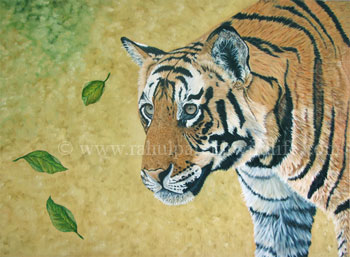 'Kallu' - Oil on Canvas - 28" x 21"
Work in Progress
Will be available soon to purchase. Email me for more information.
---